Welcome! I write the Hattie Davish Mystery series set in 1890's America featuring a traveling secretary who solves crimes in every historic town she visits!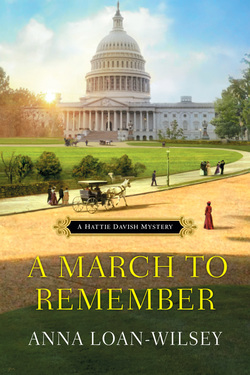 Where in the World is Hattie Now?

Traveling secretary Hattie Davish is taking her singular talents to Washington D.C. to help Sir Arthur research his next book. But in the winding halls of the nation's capital, searching for the truth can sometimes lead to murder...

Hattie is in her element, digging through dusty basements, attics, and abandoned buildings, not to be denied until she fishes out that elusive fact. But her delightful explorations are dampened when she witnesses a carriage crash into a carp pond beneath the shadow of the Washington Monument. Alarmingly, one of the passengers flees the scene, leaving the other to drown. The incident only heightens tensions brought on by the much publicized arrival of "Coxey's Army," thousands of unemployed men converging on the capital for the first ever organized "march" on Washington. When one of the marchers is found murdered in the ensuing chaos, Hattie begins to suspect a sinister conspiracy is at hand. As she expands her investigations into the motives of murder and closes in on the trail of a killer, she is surprised and distraught to learn that her research will lead her straight to the highest level of government...

---
Praise for A March to Remember

"Takes the reader on a fascinating journey into America's past . . . Hattie is an endearing, stalwart heroine, and Loan-Wilsey skillfully evokes time and place." Publisher's Weekly

"...fascinating period detail and some illegal, immoral, and just plain outrageous political shenanigans." Kirkus Review


All content copyright 2017