A Deceptive Homecoming

Traveling secretary Hattie Davish is returning to her once-quiet hometown, where a deluge of deadly secrets leaves her feeling anything but welcome...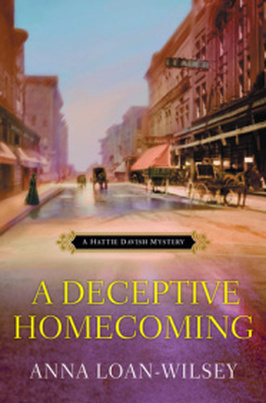 When her good friend Jessamine Hayward's father passes away, Hattie Davish rushes to her hometown of St. Joseph, Missouri. She's looking forward to visiting the place where she grew up, even if the circumstances bringer her there are bleak. But upon her arrival, she learns that all is not well in St. Joe. Jessamine is cold and distant, Frank Hayward's death is shrouded in mystery, and a string of troubling incidents have descended on Hattie's alma mater, Mrs. Chaplin's School for Women. Frank was the school's bookkeeper, and and as Hattie begins investigating the bizarre goings-on, she becomes convinced that someone other than Frank was in the casket--but who?
Her search for the truth takes her from the town cemetery, to the home of an infamous outlaw, to the dungeon-like tunnels beneath the State Lunatic Asylum--and brings her face-t0-face with a killer bent on the deadliest lesson of all...
---
Critical Praise for A Deceptive Homecoming
Poignant backstory, historical color, and expert pacing distinguish this mystery, the fourth featuring secretary Hattie Davish and the best yet in Loan-Wilsey's 19th-century cozy series.
-Publishers Weekly
For lovers of mystery with a historical flare, this is a true treat...Although a standalone read, all of the Hattie Davish mysteries are fantastic....once you pick up one Davish mystery, you'll be running to the library to get another.
-Suspense Magazine
"Colorful historical details"
-
Kirkus Review

---
Hattie Davish Mysteries available at (or your favorite bookstore):
All content copyright 2015